Windows 11 won't let me install Speedy Claims?
If you are trying to install Speedy Claims, or any other software, and see this popup it means your Windows is running in "S Mode".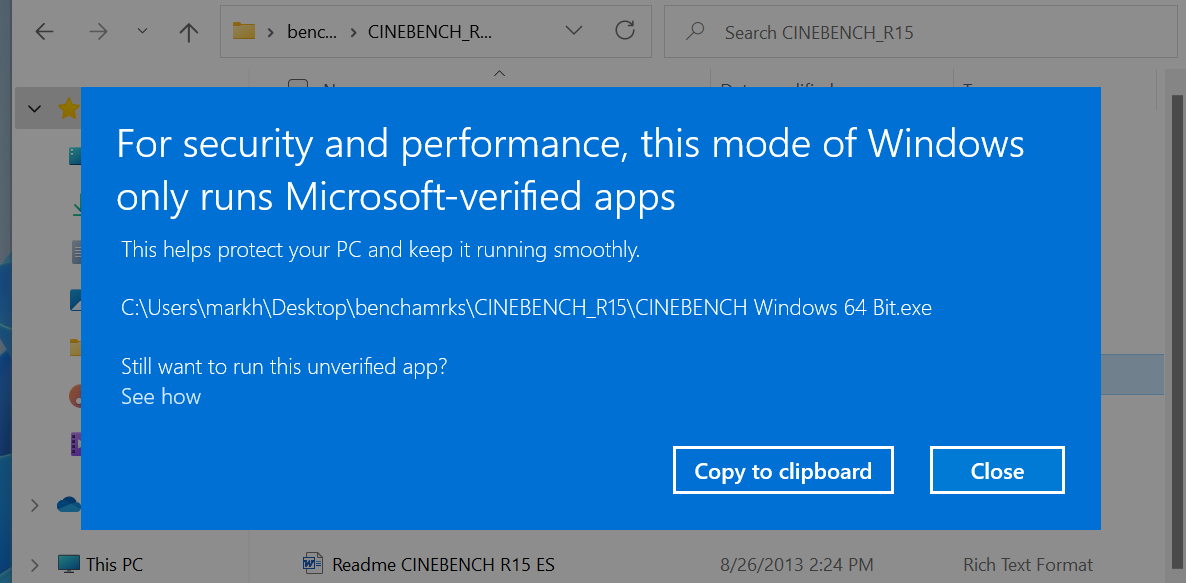 Some Windows PCs and tablets ship with Windows 11 Home in S Mode (also known as "Windows 11 S") as a way to secure the PC and prevent the use of "unauthorized applications" by restricting installation to Windows Store software alone.
S Mode restricts anything from being installed that doesn't come from the Microsoft Store app, supposedly to protect users from themselves. It should never have been shipped on retail consumer PC's because it is more appropriate for businesses or organizations.
However, it is easy to switch out of "S" mode to Windows 11 Home mode which will let you install software you do not have to buy from Microsoft.
Start by clicking the "See how" link in the popup.
Clicking that "see how" link takes you a special section of the Windows Store app, where Microsoft will try to convince you to only use software from their store.
The process is absolutely free.
If you need further assistance please contact us for help.
Related Articles

Can I install Speedy Claims on a flash drive or USB stick?

You sure can! And it is easy! Download the Installer File from "Flash Installer" Insert your flash drive into your computer and run the installer. That is all there is too it. And now you have a portable Speedy Claims that you can use with any ...

Transfer my Speedy Claims to another computer?

So, you have a new computer and want to move your Speedy Claims and records to it? Here is how to do it without running up against a registration problem. On the old computer - Start Speedy Claims and click on "File" then "Backup Data". Name the file ...

How to set up Speedy Claims on a peer-to-peer network

Request the Multi-User licenses when you subscribe. You will need one license for each station. Install the application on all of the machines except the server Copy one of the formsdb.abs file to the "network" location For each machine open Speedy ...

How to set up the Professional Claims on a peer to peer network

Request the Multi-User license when you subscribe. Install the application on all of the machines Copy the one of the formsdb.abs and formsmp.abs files to your network location On each machine open the Professional Claims and go to the Settings ...

My program says "the application failed to start" and wants me to. . .

Do you get an error message that "the application has failed to start because wuw4.dll was not found" and that "reinstalling the application may fix the problem" when you start your Speedy Claims? Do NOT try to reinstall the Speedy Claims! This ...